News
SEMS to investigate ovarian cancer without using animal tissue
6 January 2015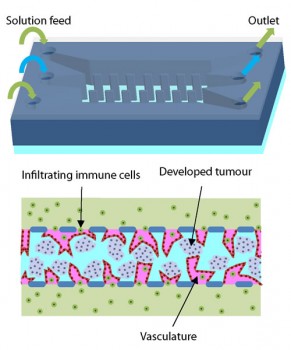 Design of a microfluidic chip for the growth of micro-tumours (top: external view, bottom: internal view)
Dr Julien Gautrot and Prof. Frances Balkwill (from BCI), have been awarded a studentship from the National Centre for Replacement, Reduction and Refinement of Animals in Research (NC3Rs ) to develop a model of ovarian cancer on a silicone chip.

The NC3Rs is the UK's national organisation which leads the discovery and application of new technologies and approaches to replace, reduce and refine the use of animals for scientific purposes.

The research hopes that chips can be used to test drugs currently used to treat ovarian cancer, and that new approaches to treatment can be found with the aim of reducing or replacing animal testing and creating novel opportunities for personalised medicine.