News
SEMS PhD student wins RMS beginners competition
6 January 2015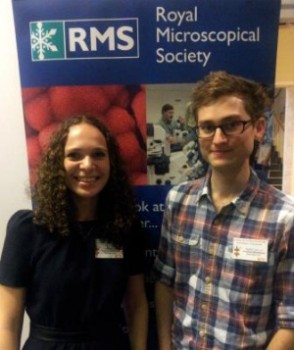 Congratulations to SEMS PhD student Jonny Wheatland who won the annual Royal Microscopical Society Beginners competition.

Jonny's presentation was entitled '3D Multi-Scale Visualisation of Complex Flocculated Natural Sediments' and was presented at the meeting of the Society for Electron Microscope Technology.

Jonny is pictured here with Kseniya Shuturminska, who also represented the School in the competition with her presentation entitled 'Imaging of Low Contrast Embedded HeLa Cells using FIB-SEM Tomography'.

Both students gave excellent presentations and impressed this broad ranging electron microscopy conference of more than 130 delegates from around the UK.
Updated by: Corinne Hanlon