News
Give a Sock for Christmas!
24 November 2014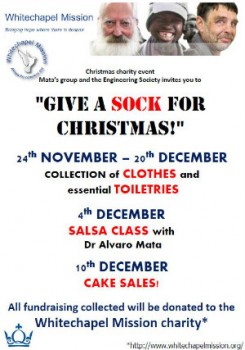 QMUL's Engineering Society and SEMS-based researchers are raising money for charity.

Please help Dr Alvaro Mata's research group and the Eng Soc as they organise a collection in aid of the Whitechapel Mission.

The Whitechapel Mission helps homeless people to stay warm during the cold winter months. To raise some much needed funding, the Eng Soc and the SEMS researchers have organised three different campus-wide activities which will take place over the next few weeks:
- a Salsa class taught by Dr Alvaro Mata
- a cake sale to help us to get in a Christmas mood
- most importantly, a collection of clothes and essential toiletries.

All of the money raised, and all of the clothes donated, will go to the Whitechapel Mission. The collection will start 24th November and will end on 20th December. Collection boxes will be placed in School offices around campus.

Help us ensure everyone has warm socks this Christmas and add the date to your diary!
Updated by: Corinne Hanlon