News
SEMS student crowned as 'the best UK university graduate' in the field of polymers
17 November 2014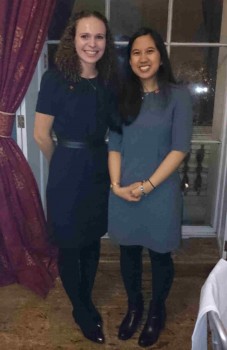 Congratulations to Kseniya Shuturminska (l) and Samantha A. Gabriel (r) who were finalists for awards at the Institute of Materials, Minerals and Mining annual dinner .
Congratulations to Samantha A. Gabriel for winning the R H Craven award from the Institute of Materials, Minerals and Mining (IOM3) at the annual Institute dinner on 11th November 2014. The award is given to the best graduate with excellence in polymer materials.

Samantha, who graduated with MEng in Medical Materials last year, was nominated by Prof James Busfield, along with classmate Kseniya Shuturminska and other students from universities across the UK. To get through to the finals, Samantha and Kseniya successfully defended their 4th year projects. After this, the competition was whittled down to a dozen candidates who were then interviewed individually. Samantha was given the R H Craven award whilst Kseniya was a finalist for the Royal Charter Prize.

Since completing her MEng degree in Medical Materials in June 2014, Samantha has moved on to study for a PhD at SEMS under the supervision of Prof Gleb Sukhorukov. Samantha continues to work as a Senior Student Ambassador for SEMS. She has said that being a student ambassador improved her communication skills and helped her develop her passion for informing others about her research.

Samantha is the third Materials graduate in the last 6 years to be awarded this prize following earlier awards to Han Zhang and Nanayaa Hughes-Brittain. We are delighted that our graduates continue to receive this level of excellent recognition for their work in polymer materials.
Updated by: Corinne Hanlon