News
SEMS student awarded Best Poster prize at the UK's largest ever Medical Engineering and Bioengineering Conference
20 October 2014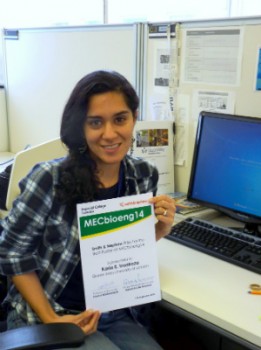 Karla E. Inostroza Brito, PhD student in the research group of Dr Alvaro Mata, received the Smith & Nephew Prize for Best Poster presentation at the Medical Engineering Centres Annual Meeting and Bioengineering Conference at Imperial College London (10-11 September 2014).

Her poster, entitled "Co-assembly, spatio-temporal control, and morphogenesis of a peptide/protein system" was selected to be the winner out of 155 research posters presented at the conference.

The conference was the fifth annual meeting of the Medical Engineering Centres, which were founded by the Wellcome Trust/EPSRC Medical Engineering Initiative, and the seventh annual meeting of the Bioengineering Society, the first time these meetings have been combined.

The award was given by Rt Hon George Freeman MP, Minister for Life Sciences.
Updated by: Corinne Hanlon