News
Success for the UK Chinese Life Science Society
15 September 2014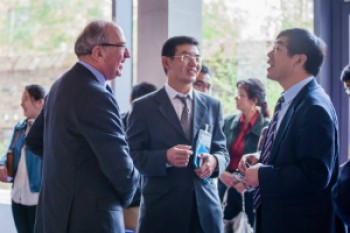 From L to R: Sir Nicholas Montagu, Chairman of the Council of QMUL, with Professor Wen Wang and Professor Cui from University of Oxford (past-President of the Society).
On Saturday 30 August, QMUL held the 20th annual meeting of the UK Chinese Life Science Society, led by the incumbent Society President, Professor Wen Wang (QMUL Dean for Research, Faculty of Science and Engineering).

Around 75 delegates from HEIs across the UK attended a day of talks including keynote speeches from Sir Nicholas Montagu (Chairman of QMUL), Mr Yang Shen, Minister-Counsellor of the Chinese Embassy and Professor Shi An, Vice President of Harbin Institute of Technology. The event, sponsored in part by the QMUL Life Sciences Initiative, also included career development sessions, short oral presentations from early career researchers, an exhibition and an awards dinner.

Professor Wang commented "The conference brings international leading scientists in Life Sciences to QMUL. It also provides an excellent opportunity for QMUL to showcase its Life Science activities and ambition. The Society has been working actively to promote collaboration and cooperation in all areas of life sciences between China and the UK over the past 20 years. It serves as a bridge to bring together great minds and ideas from two giant Nations in life sciences from the east and the west. Everyone in the conference was inspired by QMUL's achievements and its strategic vision. We look forward to a fruitful collaboration between QMUL and the Society."

Victoria Adrienne, QMUL Life Science Initiative Manager added: "We are very pleased to help support the 20th Annual UK Chinese Life Science Society Conference. As highlighted by Sir Nicholas Montagu in his welcome speech, alongside all of the collaborative work QMUL is undertaking with our Chinese partners, the recently developed QMUL Life Science Initiative linkages on the Nanchang Biomedical Sciences joint programme exemplify how well we work together and we look forward to creating new partnerships, both within life sciences and beyond, in the near future."