News
SEMS Student beats over 500 others to win poster competition
11 September 2014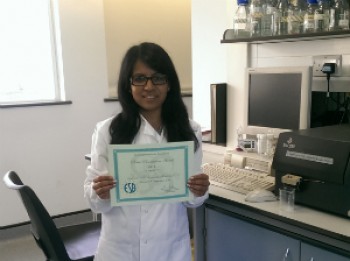 Mahentha Krishnamoorthy received the Poster Presentation Award at the 26th Annual conference of the European Society for Biomaterials (ESB) 2014, in Liverpool.

Her poster was selected to be one of four winners out of 530 research posters. This poster entitled "Characterisation of DNA interactions with Cationic Polymer brush", presented part of her PhD work in the group of Dr. Gautrot, focusing on the characterisation of interactions between DNA molecules and polymer brushes, using various techniques, such as surface plasmon resonance, ellipsometry, dynamic light scattering and zeta potential. Such system may find application in gene delivery.

The conference saw delegates coming from all over the world, with plenary/keynote speeches from experts in a wide range of aspects of biomaterials research, as well as six parallel sessions on topics such as stem cells, bone, tissue engineering, bioactive glass, drug delivery, dental biomaterials and so forth, given by members from leading research groups.