News
Good luck to Mechanical Engineering student James Johnson
16 May 2014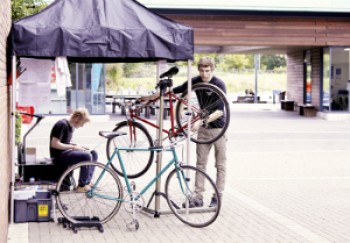 Paradise Cycles was started by James Johnson, a third year mechanical engineering student here at SEMS, and his business partner, Louis, eight months ago.

Paradise Cycles is a social enterprise which supports the cycling community and not only offers bicycle repairs, but teaches people how to service their own bike and also provides a custom-build service. Paradise Cycles is the first pop-up bike shop to operate regularly on Queen Mary's University campus.

As a result of the success of Paradise Cycles, James has been nominated for a Lived It award which recognises and showcases the very best of young social entrepreneurs, their projects and supporters. James is competing for the Enterprise Award which will be awarded to a social enterprise which demonstrates a strong business model aligning to its social values and outcomes.

The winners will be announced tonight (Friday May 16th). Good luck James from all at SEMS!
Updated by: Corinne Hanlon