News
SEMS PhD student wins Best Poster
31 March 2014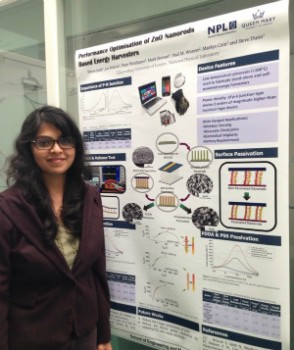 Nimra Jalali with her winning poster entitled Performance Optimisation of ZnO Nanorods-Based Energy Harvesters
Congratulations go to Nimra Jalali, a PhD student from Dr Steve Dunn's group.

Nimra was awarded Best Poster and presented with £100 at the annual Energy Harvesting Event 2014 which was took place in London and was organised by the ESPRC funded Energy Harvesting Network.

The title of the Nimra's poster was "Performance Optimisation of ZnO Nanorods-Based Energy Harvesters".