News
Guardian Awards win for student work experience project
7 March 2014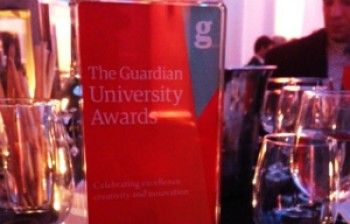 A Queen Mary University of London work experience scheme that supports its students and East End charities has been awarded the Employability Initiative of the year title at the Guardian University Awards 2014.

The QProjects Work Experience Scheme was one of three programmes in the running for the award at the Guardian's annual celebration of excellence and innovation in higher education. The winners were announced at a ceremony on Wednesday 26th February.

QProjects places Queen Mary students into east London charities to deliver projects that would otherwise be delayed or not go ahead because of a lack of resources.

Emily Huns, Head of Careers & Enterprise, said: "QProjects solves two problems: it creates a new, accessible and almost endless stream of work experience opportunities for our students whilst helping our local, resource-strapped charities to get projects done."

Students are given the opportunity to put their university studies into practice, acting as consultants; gaining workplace experience, tackling problems and leading on projects.

Through QProjects, some 228 students were placed into 34 charities in 2012-13, including: Biomedical students at the NHS East London Foundation Trust; Maths and Economics students as 'Data Analysis Project Leaders' at the Phoenix Education Trust; Computer Science students as 'Web Build Project Leaders' at Bromley-by-Bow Health Partnership; and Law students at Tower Hamlets Law Centre.

As part of the scheme, Queen Mary Careers and Enterprise team creates job profiles for students, shortlists and co-interviews candidates and pays their travel expenses. Queen Mary Students' Union, which leads on volunteering at the university, partners the scheme.
Updated by: Corinne Hanlon