News
New intercalated MSci launched at SEMS
7 January 2014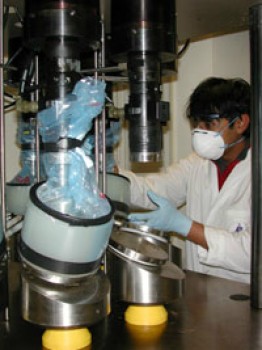 Hip Implant Testing
The School of Engineering and Materials Science has launched a new Intercalated Masters programme in Biomedical Engineering and Clinical Materials.

The MSci programme is academically rigorous and provides undergraduate medical students with the necessary skills to exhibit a critical understanding in the fields of biomedical engineering and materials for successful developments in clinical applications. Students will benefit from a multi-disciplinary research driven programme that identifies clinical problems, evaluated with the use of engineering and biomaterial-based technologies.

Students will also undertake an extensive experimental research project that examines questions alongside leading research teams involved in cross-disciplinary research at the Institute of Bioengineering and acquire specialist knowledge and expertise in addition to development of transferable and practical skills.

This programme builds on the strengths and experience in teaching and learning at the School of Engineering and Materials Science and research at the Institute of Bioengineering. Indeed, the student will benefit from cross-disciplinary research that is highly likely to contribute to a conference abstract and/or publication. The Institute of Bioengineering has an international reputation for high quality research and benefits from brand new state-of-the-art materials, stem cell and bioengineering laboratories, developed at a cost in excess of £5 million.