News
MEng students investigate the effects of bird strike
6 December 2013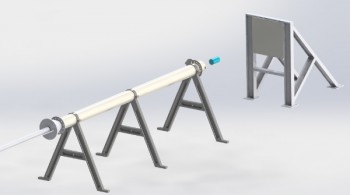 An image showing the pneumatic piston which will be used to simulate bird strike on a structure.
A bird striking the aircraft poses a significant threat to aviation safety, with frequent collisions reported.

When a bird strike occurs, the structural integrity of the aircraft is compromised and can lead to expensive repairs. Therefore, the effects of bird strikes on leading edge components must be investigated to further our understanding on what can be done to reduce this problem.

This MEng project is divided into two major tasks: experimental set-up and testing with a finite element analysis. Experimentally, a pneumatic piston will propel a gelatine bird model out of a barrel to simulate a bird strike upon a structure. Sensors placed on the structure will quantify the impact and a high speed camera will allow for visualisation of the impact.

The computational investigation will be used to model a bird strike. The results of the computational and experimental investigations will be used to see what modifications can be made to the structure to reduce the damaging effects of bird strike.

The students in this group, Harshil Devalia, Asad Shahid, Shehan Weeresekere, Pranav Ram Bhand, Sukhraj Dhensa, and KC Jimmy Cheong, are hoping that the research skills that they gain during the completion of their MEng project will be of great assistance in their future careers in the aerospace industry.