News
Dr Karin Hing scores silver!
18 November 2013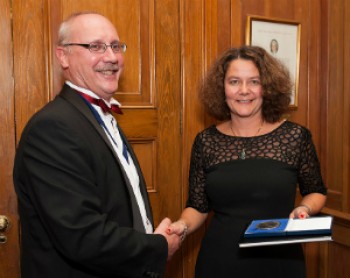 President of the Institute of Materials, Minerals and Mining (IOM3), Prof Jon Binner, awarded the prize to Dr Karin Hing. Image courtesy of IOM3.
In recognition of the personal achievement that she has made throughout her academic career, Dr Karin Hing has been awarded the prestigious Kroll Medal and Prize from the Institute of Materials, Minerals and Mining (IOM3).

Dr Hing is a senior lecturer here at SEMS. She is the director of the Dental and Medical Materials undergraduate programmes and is also the module organiser for the Applied Dental Materials and Science of Biocompatibility undergraduate modules. Dr Hing's PhD focused on the chemical and structural properties that influence bone healing. This early research led Dr Hing towards eventually developing a range of synthetic bone graft substitute materials that have been commercially successful and used to date to treat over 370,000 patients in over 30 countries. The company, ApaTech Ltd., spun out from Queen Mary to produce and market the synthetic graft materials on a commercial basis, was acquired by Baxter International in 2010 for $330m.

Currently, Dr Hing is leading a research group which is developing the next generation of bone graft materials. Our congratulations go out to Dr Hing and we hope that her future endeavours are as successful as her past ones!
Updated by: Corinne Hanlon