News
Prizes! And more opportunities for students to network
15 November 2013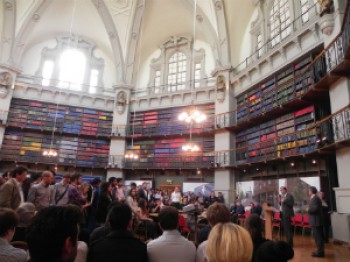 The Octagon was full of students and industrial partners on the day of the Industrial Liaison Forum.
The biannual Industrial Liaison Forum was held on Thursday October 24th in the Octagon with over 50 industrialists from over 40 organisations in attendance.

The annual SEMS Prize Day ceremony for the academic year of 2012-2013 took place where almost 50 students received prizes totalling approximately £8000. There were a number of multiple award recipients and all of the winners had their prizes delivered by a number of industrial sponsors and Principal Simon Gaskell.

Following the prize ceremony, three parallel panel sessions were held with over 350 SEMS students in attendance. The sessions were thematic and focused on the umbrella topics of innovation and sustainability within the areas of Transport and the Built Environment, Nanotechnology and Healthcare.

Finally the day was brought to a resoundingly successful completion with an open networking careers session based in the Octagon where the attending companies and organisations had an opportunity to speak to the students who participated.

The SEMS Industrial Liaison Forum has now been held twice a year for five years and provides an opportunity for students, academics and industrial links to interact and further Queen Mary's strong position and reputation within the engineering and materials science industries.

The next Industrial Liaison Forum will again be held in the Octagon on 12th March 2014 and will be focused on current MEng projects and industrial links with SEMS alumni.
Updated by: Corinne Hanlon