News
Students set to compete at Silverstone Race Circuit
11 November 2013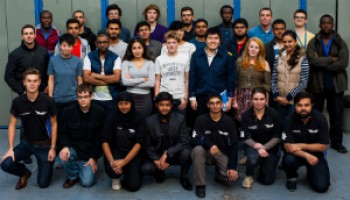 You too could be part of this happy team!
Queen Mary Racer, the heart of the Formula Student Society, is QMUL's flagship motorsport team. It comprises over 40 students from a range of schools within the university and is led by Habiba Yasmin, 3rd year Medical Engineering student. The team is challenged to design and engineer a single-seat race car.
The aspiration of Queen Mary Racer is to compete at the Formula Student in July 2014, a competition run by the IMechE and held at Silverstone Race Circuit. Formula Student sees 130 university teams from more than 30 countries come together to showcase their engineering and business talent, and to compete against each other.
Between now and July, the team must design and build a safe, economic and fast single-seat race car whilst also raising thousands of pounds, through sponsorship and events, to fund the project. The challenge is one not to be taken lightly but equally, it is an incredibly exciting project that swiftly unlocks the potential of each team member, bringing out the very best in each of them!
In summary, Queen Mary Racer is simple: to reach Silverstone in July 2014 with a car made from the blood, sweat and tears of our students. The team looks forward to tackling each and every hurdle that stands in its way on the journey to Silverstone.
So what are you waiting for? Get involved with the Formula Student Society today and experience what this incredible international competition is all about! To take that step forward to unlocking your potential, find Queen Mary Formula Student Society on Facebook or get in touch with Anna Varone (FS Society President) at
qmformulastudent@gmail.com
.
The society looks forward to welcoming you on-board soon!
Updated by: Corinne Hanlon