News
Mechanical engineering students win the James Dyson Award
7 November 2013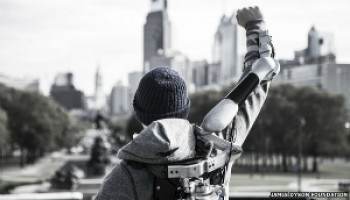 Picture from BBC News
A group of undergraduates from the University of Pennsylvania have been awarded £30,000 for their Titan Arm.

The four students developed an exoskeleton which acts to increase upper body strength and may be used one day to help patients with back injuries.

The James Dyson Award is open to applicants in 18 countries and seeks to acknowledge the contributions of problem-solving inventions.

The prize that James Dyson offers is very generous and SEMS has been informed by a past student, now employed at Dyson, that he is also a very lovely man who takes a hands-on approach within his organisation! SEMS is proud to have a graduate placed at such a well-renowned company within a highly creative environment.

The full story can be found on BBC News.
Updated by: Corinne Hanlon