News
Prestigious research prize awarded to Dr Chavaunne Thorpe
21 October 2013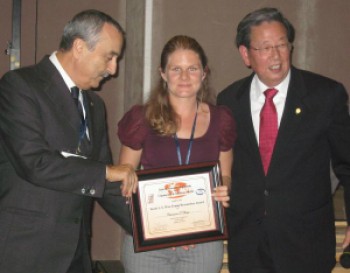 Dr Chavaunne Thorpe being presented with her certificate and cheque by Professor Giuliano Cerulli (L) and Professor Savio L-Y Woo (R).
The Savio L-Y. Woo Young Researcher Award has been given to Dr Chavaunne Thorpe in acknowledgement of her contributions to the field of connective tissue research and subsequent clinical applications.

As part of the award, the International Symposium of Ligaments and Tendons (ISL&T) has identified Chavaunne as a young researcher who is conducting "the best research studies" in one of their three categories. Chavaunne's podium presentation was entitled "Fatigue loading causes a reduction in the ability of tendon fascicles to recoil."

As part of the award, Chavaunne's research has benefitted from additional funding to the sum of $1000.

We at SEMS would like to congratulate Chavaunne and wish her all the best for her future research.
Updated by: Corinne Hanlon