News
Engineering and Business students team up in the name of entrepreneurship
17 October 2013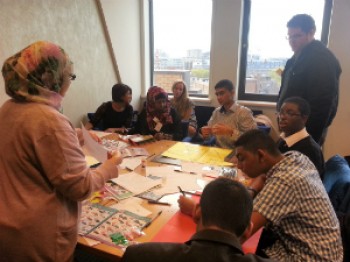 Sixth formers taking part in a Queen Mary Enactus session (qmenactus.weebly.com).
Sixth form students at a Camden school are benefiting from the expertise of two very different groups of Queen Mary students.
Our engineering students have teamed up with the business-minded folk as part of Queen Mary Enactus in order to inspire sixth form students about how engineering can be used to tackle real life issues, and about how novel solutions or products can lead to credible business plans.
In line with the ever popular "Dragon's Den" set-up, the sixth form students develop a business plan based on their engineering solution which they then pitch to a group of business advisors. It is not clear whether or not the business advisors will have large quantities of cash with them on the day, but the pressure is on for the sixth formers because there will only one winner in this competition.
If you think learning some business principles would come in handy one day, or if you want to add leadership and communication skills to your CV, drop Queen Mary Enactus an email on
qmenactus@gmail.com
.
The next challenge the sixth formers need to tackle is how clean water can be obtained using energy only from the sun.
Updated by: Corinne Hanlon