News
Photo competition for all EPSRC students and post-docs
16 October 2013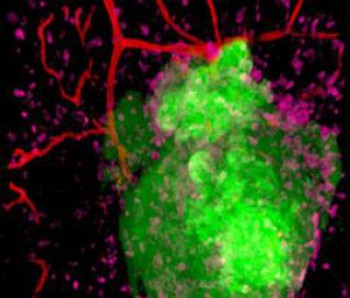 Could an image like this win? Professor Martin Knight's image shows the ovarian cancer cells of a mouse in green, immune cells in pink and blood vessels in red.
The first ever Science Photo Competition from the Engineering and Physical Sciences Research Council (EPSRC) has been launched with £1500 worth of prizes to be won.

The theme of the competition is Research in Action and there are five categories: People, Weird and Wonderful, Discovery, Innovation and Equipment.

The idea of the competition is to challenge researchers to share their research through a photograph. As a school, we are doing some great research which has far-reaching consequences; here's looking forward to a successful SEMS entry.

The competition is open to all EPSRC-supported researchers and students and the deadline is 16th December 2013.
Updated by: Corinne Hanlon