News
Ambassador application forms due 21/10/13
14 October 2013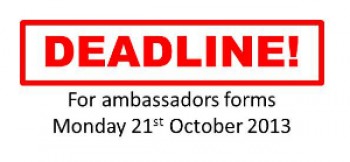 The deadline for those wishing to become a SEMS student ambassador is now approaching.
Student ambassadors work with the Outreach and Recruitment team in the main SEMS office and duties include:
- assisting with school visits to SEMS
- speaking to prospective students at Open Days
- giving informative tours of SEMS
- visiting schools to deliver activities.
To be a good student ambassador, you must be passionate about your subject choice and be willing to use this passion to help encourage others to be the next generation of engineers and material scientists!
Being a student ambassador for SEMS will not only make your CV stand out from the crowd or help you develop valuable communication skills, but you'll also get paid at a rate of £7/hr!
Application forms can be found in the SEMS School Office at the front desk and should be returned to Corinne Hanlon (
c.hanlon@qmul.ac.uk
) once completed.
On Tuesday 22nd October, you will receive an email telling you in full about training for the role. The training will take place on the following days and times:
- Monday 4th November at 10:00 - 12:00
- Wednesday 6th November at 14:00 - 16:00 and 16:00 - 18:00
- Thursday 7th November at 14:00 - 16:00
Updated by: Corinne Hanlon