News
Dragon's Den for young entrepreneurs: SEMS student takes second
9 October 2013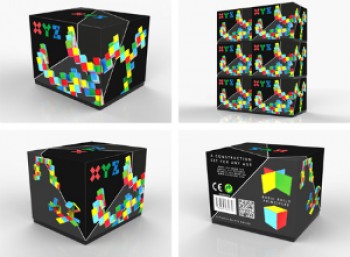 The packaging design for Klayton's 'XYA, a new construction set for any age'
A student from Queen Mary University of London's Design and Innovation programme has won a prize of £3,000 at the annual Innovation Hothouse competition, which showcases the very best in final year student design projects.
Klayton Palmer, a Design and Innovation student from SEMS, impressed the panel of judges with a toy for children made up of identical modular pieces that connect together without the need for secondary fixings.
Klayton won second prize at the competition for this new type of structural construction set, which is run by The Royal Academy of Engineering.
Commenting on the prize, Klayton said: "I never expected anything from the day, I just hoped it would be a good experience, and to actually have the opportunity to get eminent and informative feedback from the well respected panel. To make many new contacts and come second with a prize is brilliant!"
He added: "This shows me that my product has legs and that I need to pursue the commercialisation of it with vigour."
The product, called 'XYZ, a new construction set for any age', has been inspired by the need to help children easily create environments that integrate well with other toys whilst remaining strong enough structurally for children to climb onto into, under or around it.
XYZ helps the young user to learn basic engineering principles through play and experimentation and encourages children to build bigger and more imaginative structures where the only limit is their imagination or the number of pieces available.
As part of the competition, Klayton pitched his business plan to a Dragon's Den style panel, including research on the scope and market share for the toy. He envisages that the unique way that the product connects will revolutionise the approach to shop displays, exhibition stands and flat pack furniture markets by providing easy to assemble, strong, reliable, adaptable furniture without the need for instructions or fixings.
By Neha Okhandiar, Public Relations Manager (
n.okhandiar@qmul.ac.uk
).
Updated by: Corinne Hanlon