News
SEMS research team feature in Wiley's 'Best Of' list
21 January 2013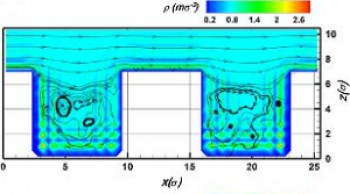 Two-dimensional density and flow fields of the liquid in the wall-neighbouring area.
A publication by a research group at SEMS and Xi'an Jiaotong University (XJTU) has succeeded in being considered as some of the most accessed and best published research from 2012 in a blog by Wiley Online Library.

The journal paper, accessed using the link below, investigates the effect that roughness has on flow and thermal boundaries in liquid channels at both a micro- and nano-scale level. The team concluded that for flow to remain the same, the roughness of a surface in a channel should be inversely proportional to the height of the channel.

Sun, J., He, Y., Tao, W., Yin, X., Wang, H. (2012). Roughness effect on flow and thermal boundaries in microchannel/nanochannel flow using molecular dynamics-continuum hybrid simulation. International Journal for Numerical Methods in Engineering, 89 (1), 2-19.
Updated by: Corinne Hanlon