News
Best Doctoral Thesis in Biomechanics awarded to SEMS PhD student, Dr Angelo Karunaratne
24 September 2013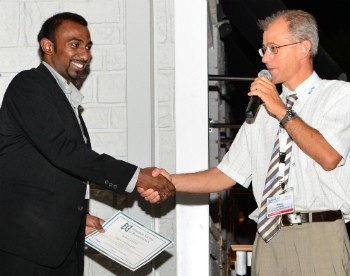 Dr Angelo Karunaratne was awarded Best Doctoral Thesis in Biomechanics at ESB2013
Congratulations to Dr Angelo Karunaratne, who has been awarded the Best Doctoral Thesis in Biomechanics, at the 19th Congress of the European Society of Biomechanics (ESB2013), held at the University of Patras, Greece on 25th – 28th August 2013. The Best Doctoral Thesis in Biomechanics is a new award from ESB which recognises the development of an outstanding doctoral thesis that has contributed to the advancement of the theory and/or applications of Biomechanics. The award included a keynote award lecture at the congress, as well as an honorarium of €2000.

Angelo's primary supervisor was Dr Himadri S. Gupta, SEMS, Queen Mary University of London, and his second supervisor was Prof Nick Terrill, Diamond Light Source, UK. Angelo's thesis, entitled "Analysis of alterations in matrix quality at nanoscale in metabolic bone diseases using synchrotron x-ray diffraction", developed in situ synchrotron X-ray techniques into a diagnostic tool to quantify the changes in bone tissue at the atomic and molecular level during ageing and disease. This research can be applied to understanding the mechanisms of bone fragility in metabolic bone diseases and joint degeneration conditions like osteoporosis and osteoarthritis, and also in quantifying the effectiveness of drug treatments in improving the resistance of bones to fracture. Angelo's research has so far led to three published papers, with two more currently in review, in leading journals such as Bone and Journal of Bone and Mineral Research.

Angelo graduated with a first class MEng degree in Medical Engineering from QMUL in 2009. He then joined the group of Dr Gupta and completed his PhD in a three year period. He is currently a Post-Doctoral Research Associate in the group of Prof. Anthony Bull at the Royal British Legion Centre for Blast Injury Studies, Department of Bioengineering, Imperial College London.