News
SEMS MEng Project Group Awarded Third Prize in International Aeronautics Competition
24 May 2013
The Qu-jet 128 D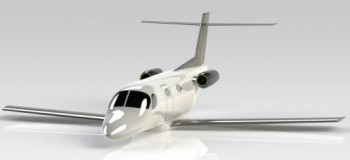 The Qu-jet 128 D
SEMS MEng Project Group Awarded Third Prize in international aeronautics competition that will be delivered at the Paris Air Show on Thursday June 20.

One hundred and thirty two students from 23 colleges and universities around the globe registered in October 2012 to the Price Induction competition. The contest asked students to imagine and design the best Personal Light Jet based on a 4-seater twin engine jet equipped with DGEN 390 – the Price Induction innovative engine.

Third place went to 2 projects: the Qu-jet 128 D imagined by students from the School of Engineering and Materials Science, Queen Mary - University of London and the Zephyr Eagle from Embry Riddle in Daytona.

The QMUL designers bring rise to an efficient, sleek and luxury personal light jet. Matching a contemporary external design with significant aircraft characteristics such as, de-icing system, crash worthiness and a propulsion control.

Students' Names : Adeel Ahmed - Benjamin Karrass - Ajmal Khurram - Erhan Ozelci - Mohammad Raheel - Amir Rao.

Supervisors: Dr. Eldad Avital & Dr. Ranjan Vepa.

The Engine :
The DGEN is an innovative and lightweight turbofan which will allow the advent of a new class of aircraft evolving in the general aviation's flight domain, the Personal Light Jets.
Updated by: Crawford Blagden