News
Lotus F1 Visit
20 February 2013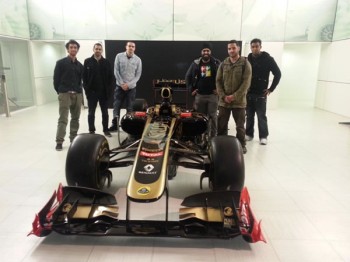 Lotus Forumula 1 Student Visit
9 students from Aeronautical and Mechanical Engineering with final year projects in Formula 1 design and Dr. J.-D. Müller visited the Lotus Formula 1 factory in Enstone, Oxfordshire on Feb 20.

The group was shown around the manufacturing hall, race car assembly bays, windtunnel facilities and CFD simulation centre by a CFD expert from the aerodynamics team of Lotus.

Apart from having an exciting visits, students were able to put detailed questions on the aerodynamic design to the Lotus engineer, who was able to answer most of them.

A similar visit next year is envisaged.
Updated by: Crawford Blagden