News
Alumni Focused Industrial Liaison Forum
6 March 2013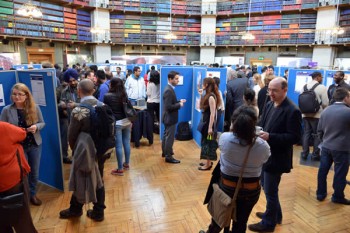 The SEMS Alumni Industrial Liaison Forum
SEMS welcomed back over 25 alumni to our Industrial Liaison Forum on March 6, 2013. The forum consisted of a poster presentation in the morning by all MEng project groups and the best 75 BEng individual projects including a number of visiting project sponsors such as Alcoa and Jaguar LandRover .

This was followed by three afternoon panel sessions consisting of SEMS alumni who have gone on to work in the fields of aerospace, mechanical engineering and materials science.

Finally the visiting alumni came together at the end of the day to discuss how we can continue to grow the SEMS alumni network and possible future activities to support our student population.

The Forum was a resounding success, and as with last years Alumni event, brought together an array of past students who have gone on to work in a variety of interesting fields and roles.
Updated by: Crawford Blagden