News
A world class jet engine multi-purpose simulation test bench in SEMS
14 September 2012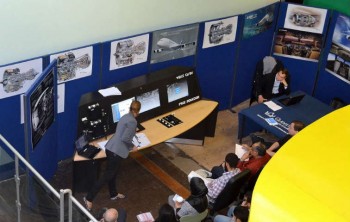 Price Induction is a new engine manufacturer which has developed an innovative and lightweight turbofan, the DGEN 380. This high by-pass ratio turbofan has been designed to equip 4-5 seat travel planes also known as "Personal Light Jets".

The WESTT CS/BV simulation test bench is based on the real test bench used for jet engine development by Price Induction. Over the past few years, these real and virtual engine test benches have been used by French universities for education and research purposes.

This is the first time a WESTT CS/BV test bench has been installed in the UK and it follows successful installations in France, Brazil, and soon in the USA, Germany and Asia. It provides detailed graphical and numerical analysis of the engine performance, aerodynamics, thermodynamics in various conditions as well as access to its control algorithms, laying the foundation for further research and development.

The installation is part of a partnership between Price Induction and SEMS. Mr. Olivier Chéret the deputy CEO of Price Induction added "We are delighted to be in Queen Mary University of London, installing our first multi-purpose test bench in the UK. We see this partnership as an important step in further developing our collaboration with the UK educational and research sectors."

During the coming months the test bench will be incorporated in a wide spectrum of educational and research activities in SEMS ranging from undergraduate teaching of first year students to MEng, MSc and PhD research projects. The test bench will also be used as a demonstrator for visiting academics and researchers.
Updated by: Catherine Jones