News
Biomaterials teach stem cells how to behave
12 June 2012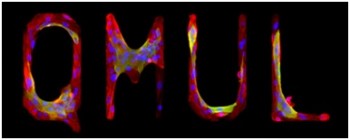 QMUL micro-patterned skin stem cells. This logo of patterned stem cells was generated using state-of-the-art surface micro-patterning available at QMUL.
Stem cells learn a lot about how they should behave from their micro-environment, the very intimate set of biochemical, chemical and physical factors that they are most directly exposed to. Re-constructing such micro-environment in vitro is an important challenge in the field of regenerative medicine. Researchers at QMUL (School of Engineering and Materials Science) and the University of Cambridge (Centre for Stem Cell Research and Chemistry Department) are developing materials approaches to control stem cell behaviour. In two research articles recently published online (1) and (2) they describe how stem cell fate decision (differentiate and change phenotype or remain a stem cell) is determined by nano-scale properties of their matrix rather than bulk properties (in particular mechanics) and how the use of surface patterning allows to generate cell micro-arrays that mimic the compartmented architecture of normal epidermis and its perturbation in cancer. Dr Julien Gautrot, lecturer in Biomaterials at QMUL and co-author on both articles commented: "Research in this field is very challenging and very exciting. Novel developments in biomaterials research are helping to bring stem cells closer to application and translation. More fundamentally, scientists can now design biomaterials in order to probe more deeply our understanding of stem cell biology".
(1) J. E. Gautrot, C. Wang et al., Biomaterials 33, 5221 (2012).
http://www.sciencedirect.com/science/article/pii/S0142961212004061
(2) B. Trappmann, J. E. Gautrot et al., Nat. Mater., DOI: 10.1038/NMAT3339 (2012).
http://www.nature.com/nmat/journal/vaop/ncurrent/full/nmat3339.html