News
New funding for Graphene Nanocomposite research
9 May 2012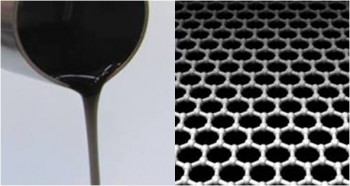 NanoSynth willl develop novel multifunctional resins incorporating graphene for advanced composite and coating applications.
The NanoSynth project will develop a synthesis platform to deliver industrial quantities of graphene-filled epoxy resins for high performance applications. This will have a significant effect in a wide range of markets where improvements are needed in strength, stiffness, toughness, electrical conductivity and thermal performance of epoxies. NanoSynth will develop methods for exfoliating graphite and disperse the resulting graphene directly into thermosetting resins for application areas such as advanced composites and multifunctional coatings.

The Technology Strategy Board (TSB) funded project is due to start August 2012 and has a total value of £1M, and involves Dr. Emiliano Bilotti, Prof. Ton Peijs and QM's spin-out Nanoforce Technology Ltd. The NanoSynth project will also involve industrial partners Netcomposites, Maelstrom Advanced Process Technologies, Advanced Composites Group, B/E Aerospace and Bombardier Aerospace.