News
Project Prize Winners from Industrial Liaison Forum
13 March 2012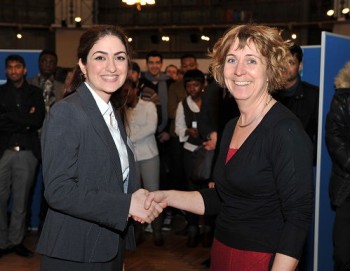 Ellahe-Naz Farhangia being awarded the best Fourth Year Project Prize by Dr. Julia Shelton.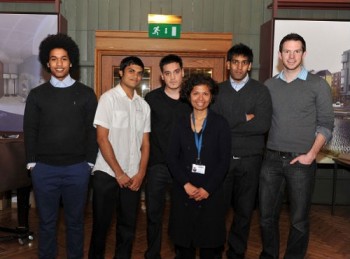 Team Solar Flare with Dr. Tina Chowdhury.
At the recent Industrial Liaison Forum more than 125 of our 3rd and 4th year students presented their project work. Congratulations to Ellahe-Naz Farhangia who was awarded the best Fourth Year Project for "Armour Aluminium Alloys: Structure, Property & Ballistic Protection Correlations" and to the Solar Flare Team who were awarded the prize for best MEng Project group. The team designed an energy efficient vehicle with optimal aerodynamics at 1/5 scale of the original size. CNC was used to manufacture the vehicle and tested during rolling road experiments within a wind tunnel.