News
NanoVision Centre microscopy technique published in Nature Protocols
15 June 2011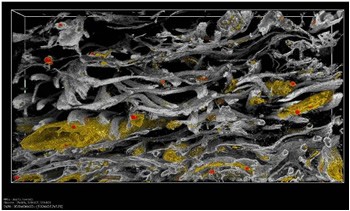 Rendered 3D reconstruction of developing cornea tissue showing the complex organisation of collagen fibrils (grey) mediated by Keratocyte cells (yellow).
A method to reveal the 3 dimensional micro-architecture of complex biological tissues has been perfected at Queen Mary's NanoVision Centre for advanced microscopy. The method uses the Centre's focused ion beam – scanning electron microscope (FIB-SEM) to cut away a thin slice of material from a resin embedded block of biological tissue. This surface is then imaged before cutting away another thin slice and repeating the process. Automated sequential slicing and imaging allows a 3D data set to be build-up over relatively large volumes of tissue while still resolving sub-cellular detail. The technique could have wide applications in structural biology, particularly in determining the relationship between cells and their local organisation within tissues or organisms that are important to understanding developmental biological or changes in response to disease.
Andy Bushby (School of Engineering and Materials Science) in collaboration with colleagues at Cardiff University have developed the method through an EPSRC Access to Materials Research Equipment grant (EP/F019882/1). The importance of the work has been recognised through publication of the detailed methodology in the journal Nature Protocols and is the featured paper for June 2011.

Ref: A.J. Bushby, K.M.Y. Png, R.D.Young, C. Pinali, C. Knupp and A.J. Quantock (2011): "Imaging Three-Dimensional Tissue Architectures by Focused Ion Beam Scanning Electron Microscopy", Nature Protocols, 6(6), 845-858.
Updated by: Jonathon Hills