Materials Science and Engineering
BEng (J511) / BEng with Industrial Experience (JM11) / BEng with Year Abroad (J51Y)
MEng (J512) / MEng with Industrial Experience (JM10) / MEng with Year Abroad (J52Y)
Entry Year: 2019
Overview

Have you ever wondered how a Formula One car can weigh so little, how the touchscreen on your mobile works or what an artificial heart valve is made of?
Friday 21 & Saturday 22 June
Be part of our campus community
Register now »
The Materials Science and Engineering programme will give you a thorough grounding in the physical and chemical structure, properties, manufacturing and design of materials.
Academically, the programme bridges the pure and applied sciences. Vocationally, it teaches skills across a range of disciplines, so graduates are in demand throughout industry and business.
We cover all materials: metals, ceramics, polymers and composites. Knowledge of these materials is essential if you wish to work in sectors, such as automotive or aerospace manufacture, where material selection is critical.
If you choose the MEng degree, you'll take part in a high-level group project, often sponsored by industry. The experience provides a valuable insight into real-life engineering design and project management.
Professional recognition
This programme is accredited by the Institute of Materials, Minerals and Mining (IOM3).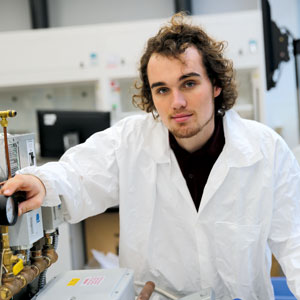 I really enjoyed the student-centred learning module. The thought process involved in solving the tasks they set you is really engaging and extremely varied. One week I would be looking at characterisation techniques and the next I would be building a boat. I had a lot of fun with this module and developed a lot of other skills while doing it.