Dr Richard Twycross-Lewis
BSc(Hons), MRes, PhD, MSc, PGCert, AMIMechE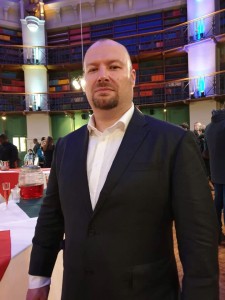 | | |
| --- | --- |
| Position: | Postdoctoral Research Assistant |
| Supervisor: | Dr Aleksandra Birn-Jeffery |
| Tel: | +44 (0)20 7882 5368 |
| Email: | r.twycross-lewis@qmul.ac.uk |
| Location: | 328B, Engineering, Mile End |
| Networks: | |
| Expertise: | Biomechanics & Intellectual Property Law |
| Research keywords: | biomechanics, gait, neuromechanics, gait metrics, non-steady tasks |
| Affiliations: | Associate Member of the Institution of Mechanical Engineers |
Brief Biography
Summary: Graduate Instrumentation Systems scientist and Part-Qualified (UK) Patent & Trade Mark Attorney, specialising in Patent Law, Trade Mark Law, Copyright & Design Law and Competition Law, with a Ph.D in Medical Engineering. Author of 21 peer-reviewed research papers, with a further 2 submitted, and with over 10 years experience of lecturing and research in clinical academia. I have recently completed a taught M.Sc degree in Management of Intellectual Property, awarded with Merit. I authored a short research dissertation on I.P. issues related to transfer of 3D printer data files as part of my M.Sc. Additionally, I also sat foundation CIPA and CITMA professional exams for a seperate P.G.Cert. in Intellectual Property Law.

In the field biomechanics & biomedical engineering, my interests primarily lie in gait analysis of children with Cerebral Palsy. I have 10 years experience of instrumented gait analysis in clinical populations and have collaborated with NHS partners to provide outcome measures which lead into the decision making process to help determine the need for surgical interventions. I also collaborate with industry partners and have validated 3D printed foot-ankle orthotic (AFO) devices (subject to legislative provision: custom class 1, Medical Device Regulations 2002 (as ammended)(SI 2002/608), and Council Directive 93/42/EEC) to promote more efficient movement patterns.

In addition to my work in the School of Engineering & Materials Science at QMUL, I am currently undertaking the Graduate Diploma in Law (incorporating the Common Professional Exam) in order to diversify my skill-set to Law.

I am interested in all aspects of Intellectual Property Law (particularly contentious Trade Mark and Copyright & Design litigation), as well as Competition Law (both EU & domestic).