Division of Materials Engineering
Public Engagement
Synthetic bone graft research gets stamp of approval
The pioneering work of the division has been celebrated with a stamp as part of a new series launched by Royal Mail.
The six stamp set, launched today, marks innovations in British engineering from the last 50 years including the development of a synthetic bone graft by Dr Karin Hing from the School of Engineering and Materials Science (Division of Materials Engineering).
Her team at Queen Mary engineered materials that encourage bone growth when used in complex orthopaedic surgeries and have improved the outcomes for hundreds of thousands of patients worldwide.
Dr Hing's stamp depicts a close-up of the synthetic bone graft with an example of where bone grafts are commonly used  to support bone regeneration in orthopaedic surgery.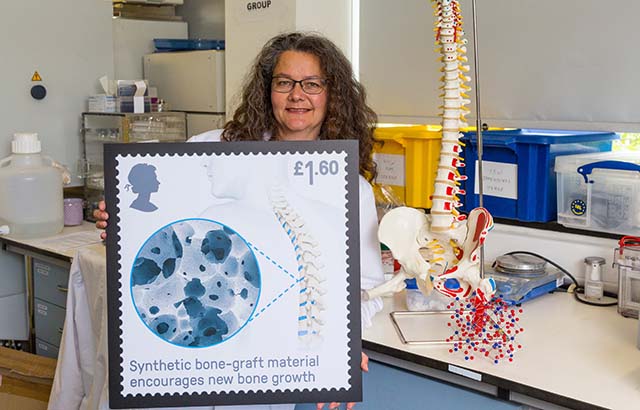 Other innovations marked in the collection include the Raspberry Pi, the Falkirk Wheel, the three-way catalytic converter, superconducting magnets for use in MRI scanners and the tunnel boring project that will enable Crossrail.
Also celebrated with its own four stamp set is the Harrier Jump Jet, the first operational jet fighter in the world to use revolutionary vertical short take-off and landing technology.
A huge honour
Dr Hing said: "It was a delightful surprise and a huge honour for my work on synthetic bone grafts to be recognised with a stamp and in particular to be part of a set which celebrates some incredible innovations in British engineering. I feel very fortunate that my research has gone on to have such a positive impact on people's lives, but this would not have been possible without multidisciplinary collaboration. Having our engineering of synthetic bone grafts celebrated on a stamp like the Marvel Comics and the Harry Potter books might even impress my kids."
Dr Hing started investigating how the structure of bone grafts can affect their performance while she was working as a PhD student at Queen Mary.
When bones fracture, they are often able to heal themselves. But sometimes the fracture is too large or complex for the body to repair on its own, so bone grafts are used in surgery to promote bone healing.
These grafts can be either taken from the patient's own body (auto-graft) or engineered (synthetic bone-graft substitute). Whereas an auto-graft introduces a natural template and new living bone cells into the area, a synthetic bone graft must bioactively encourage native bone and stem cells to form new bone tissue, which should eventually replace the synthetic scaffold material completely.
Materials researchers demonstrate targeted drug delivery at TeenTech London
SEMS researchers demonstrated a working model of drug delivery using magnetic nanoparticles at a TeenTech event in The Emirates Stadium. The event was attended by several hundred of school children who had the opportunity to engage in hands-on activities.

SEMS researchers used a mock circulatory system to demonstrate how drugs could be targetted to certain locations in the human body by incorporating them in magnetic nanocapsules. Students were invited to use magnets to direct the nanocapsules to different locations in the mock circulatory system.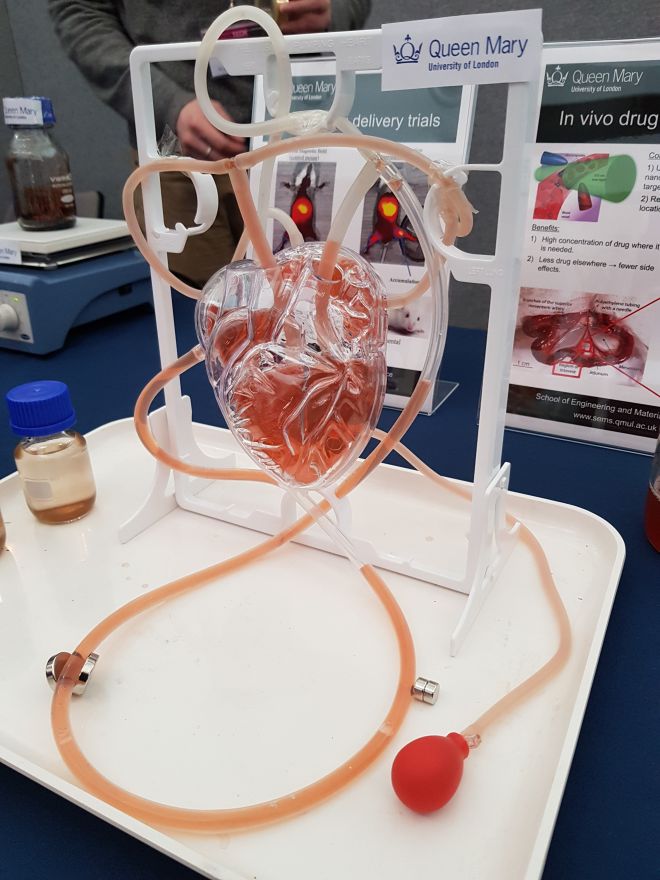 The activity highlights research in SEMS into targetted drug delivery systems lead by Prof. Gleb Sukhorukov.
https://www.sems.qmul.ac.uk/staff/research/g.sukhorukov
Materials Engineering PhD student showcases his research in Parliament
PhD student Thibault Degousée presented his results at the STEM For Britain event in the Palace of Westminster. Thibault's work examines the possibility of generating electricity from waste heat using thermoelectric polymers.
This event aims to present "ground-breaking" and frontier UK research and R&D to Members of both Houses of Parliament at Westminster and foster greater dialogue between early-stage researchers and Members both in Westminster and in their Constituencies. A number of MPs and policy members attended the event.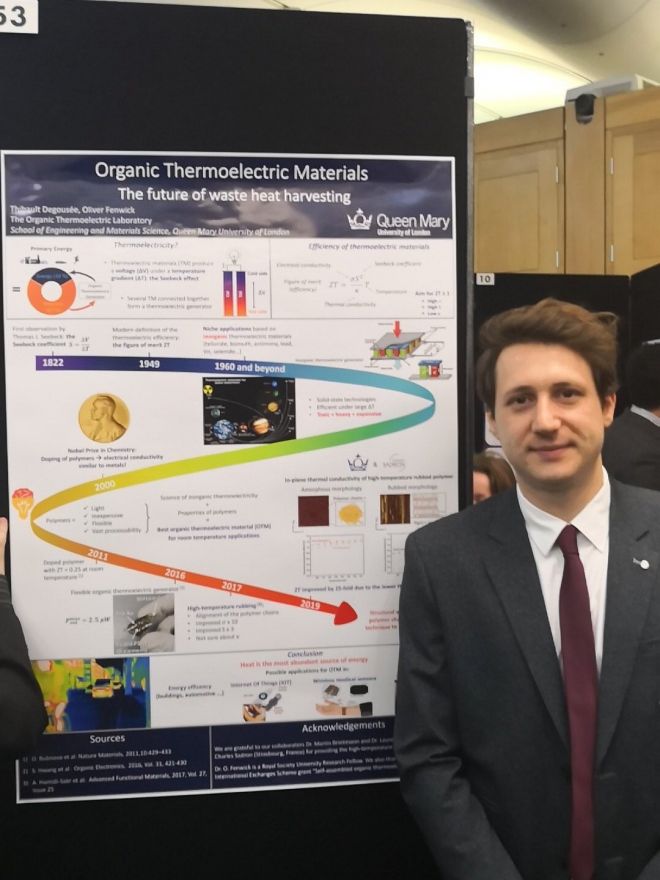 Recharging your batteries at the Science Museum
As part of the Year of Engineering, Dr Ana Jorge Sobrido was given the opportunity to delivery an activity related to her research at the family festival We Are Engineers at the Science Museum London.
The activity "ReCharge" brought closer the wonders of batteries and their important role in our society to kids and adults. In total, an overwhelming 1,000 people visited the stand, and built more than 300 batteries out of lemons, potatoes and grapes with enough power to light a LED! We were very pleased with how popular our stand was! We also had a flow cell that could discharge and charge in 10 min, and visitors could see a dramatic change in colour as the cell discharged and charged. While discharging, the cell was able to power a small motor, too!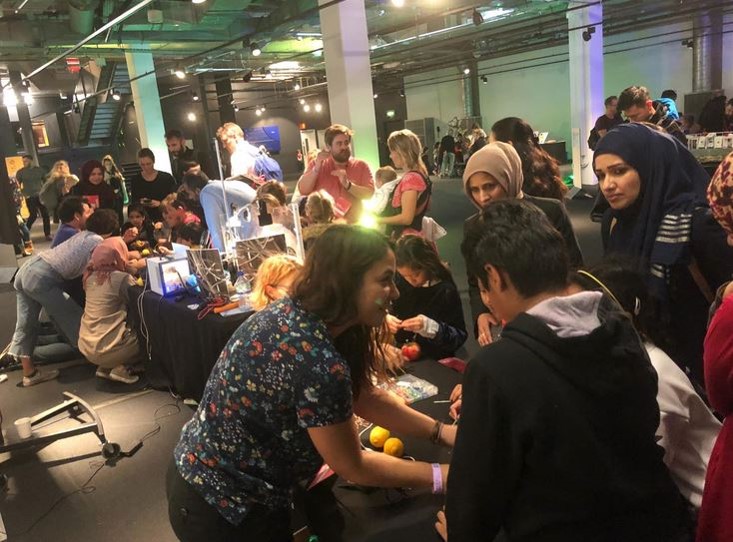 https://www.qmul.ac.uk/publicengagement/blog/2018-blog-posts/items/recharging-your-batteries-at-the-science-museum-.html
Science on Tap!
In partnership with the British Embassy in China and the Department for International Trade, Dr Fenwick delivered an interactive public lecture in Xi'an, China, titled "Thermoelectrics: Powering the Future". Attendees saw a thermoelectric device in operation, explored heat sources using a thermal imaging camera, and handled plastic electronic devices.