Division of Chemical Engineering and Renewable Energy
Sustainable Processing of Energy Materials from Waste
| | |
| --- | --- |
| Funding source(s): | EPSRC Engineering and Physical Sciences Research Council |
| | Start: 01-01-2019 / End: 31-12-2021 |
| | Amount: £32669 |
| SEMS division: | |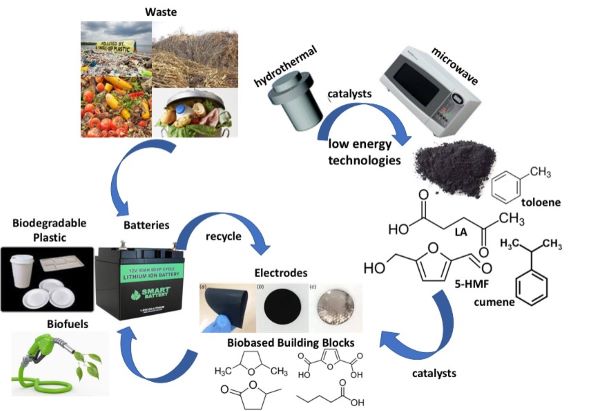 This project is developing new processes for waste remanufacturing based on hydrothermal and microwave treatments to yield sustainable products such as advanced carbon materials and chemicals, which in turn could be manufactured into battery devices

Hydrothermal or microwave conversion of waste results in a liquid phase containing important chemicals such as levulinic acid (LA) and 5-hydroxymethyl furfural (5-HMF), which are platform intermediates for a range of products including solvents and precursors of polymers, pharmaceuticals, plasticizers and other biofuels. We separate these chemicals from the aqueous phase using preparative chromatography and convert them into other useful products using the carbon catalysts produced from the solid phase of the waste conversion. This will thus close the loop in biowaste product utilization.

In parallel, we also use the solid carbon materials to manufacture anode materials for Li and Na ion batteries. We test the performance of these waste-derived electrodes in half- and, based on the best performant materials, full cells.

We evaluate the environmental impact of the manufacturing of these products at each life cycle, their cost compared with other products on the market, and we will perform multiscale modelling to predict the ability of these processes and products to be upscaled.

Our collaborative research activities have the potential to reduce environmental pollution and find new and innovative ways to recycle/remanufacture waste into advanced materials. In addition, the resulting biofuels and batteries from our processes will help the UK achieve its targets to reduce greenhouse gas emissions and introduce more renewables.