News
Cranfield flight course successfully carried out this year adapting to Covid restrictions
15 July 2021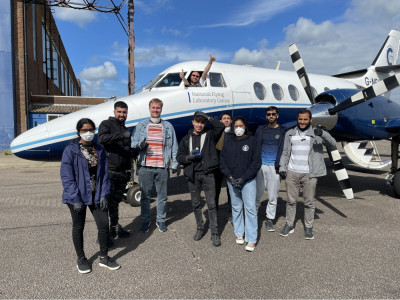 SEMS students with the Jetstream 31 aircraft
On June 22nd a group of aerospace students travelled to the national flight lab centre at Cranfield to successfully experience flights demonstrating flight dynamics principles they have studied this year, while seeing and analysing real-time flight data.
Due to the Covid situation the group was limited to 18 students and MEng students who will stay with us for another year, volunteered to join next years flight course so students who are graduating this year could join the course. The students were accompanied by Dr Avital who said "I was concerned of problems popping at every corner, but at the end all went very smoothly. The coach turned up on time, the students turned up on time and followed Covid safety rules (at least when I was looking), and really enjoyed the course. The success can be attributed to the strong support by the school office when we prepared for this course. I think it is very important for an engineering student to see real engineering (in this case an aircraft) and feel it. It has become even more important this year, when most of the contact between students and staff was literally virtual and there was no practical lab experience".
The flights on June 22nd were the last teaching flights performed by the Jetstream 31 seen in the picture. Next year students will experience the larger Saab 340B in which SEMS is one of the many partners who supported that aircraft.