News
Industrial Liaison Forum is a Tremendous Success
20 November 2019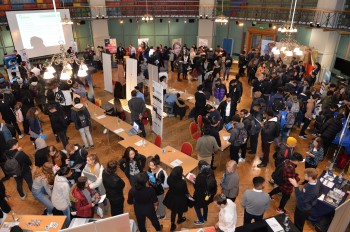 Networking Session in Action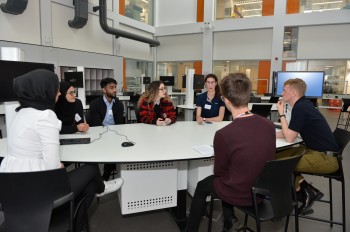 Help Sessions on How to Secure Work Experience
The biannual Industrial Liaison Forum was held on Wednesday November 20th November in the Octagon. The event was well attended with over eighty industrialists from more than sixty organisations attending. The event was broken up into four parts, starting in the morning with the PhD research poster exhibition, followed by the annual SEMS Prize Day ceremony for the 2018-2019 academic year.

The afternoon consisted of five separate panel sessions, chaired by SEMS staff and made up of industrial speakers, followed by a Networking Event back in the Octagon. The PhD poster exhibition was of great interest to faculty, students and attending industrialists alike. Over 80 posters were displayed with three prizes awarded, sponsored by Polymax.

The annual SEMS Prize Day ceremony then followed with thirty student prizes. There were a number of multiple award recipients and all of the winners were honoured to have their prizes delivered by a number of industrial sponsors and Dr Philippa Lloyd, the Vice-Principal (Policy and Strategic Partnerships). In the afternoon five student facing panel sessions were held, attended by over 600 SEMS students. The sessions were chaired by SEMS staff and made up of leading industrialists. Finally the day was brought to a resoundingly successful completion with a networking event in the Octagon that attracted 35 companies and more than 500 students. Finally Prof. Julia Shelton and Dr. Joe Briscoe also led an Industrial Advisory Board meeting with more than 20 IAB partners who all helped us to review our latest curriculum review proposals.

The SEMS Industrial Liaison Forum has now been held twice a year for ten years and provides an opportunity for students, academics and industrial links to interact. The next Industrial Liaison Forum will again be held in the Octagon on 26th February 2020 and will be focused on current final year BEng, MEng & MSc projects and continuing to develop our industrial links with SEMS alumni.