News
Dr Karin Hing: SEMS's Inspirational Female Engineer
23 June 2014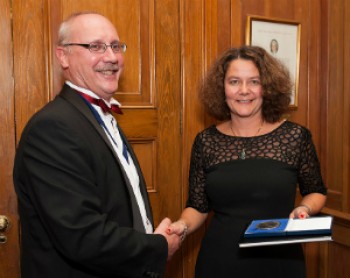 Karin collecting her Institute of Materials, Minerals and Mining Kroll Medal and Prize.
To coincide with the first ever National Women in Engineering Day, Corinne Hanlon caught up with Dr Karin Hing to talk about inspirations, 3D visualisation and Pink Floyd.

Hello Karin, please tell those who don't know you who you are.
I am a part time senior lecturer, Head of the Bioceramics research group and Director of both the Dental and Medical Materials undergraduate degree programmes at the School of Engineering and Materials, Queen Mary University of London. I'm also a single mum of two with an advanced scuba divers licence and have volunteered as an assistant scout leader.

What are your greatest professional achievements?
I'm one of the founding scientists of ApaTech, a globally leading orthobiologics company, which was sold to Baxter in 2010 for £220M. I was the technical lynch pin responsible for developing the manufacturing route which led to the research behind the ApaPore, Actifuse and Inductigraft families of bone graft substitutes. By the end of 2014, it has been estimated that over 500,000 people will have been treated with these bone graft substitutes!
In 2011, I was the first woman to be awarded the Royal Academy of Engineering's Silver Medal. I was awarded this in recognition of my scientific and technical contribution to the successful commercialisation of ApaTech. In 2013, I won both the Institute of Materials, Minerals and Mining Kroll Medal and Prize, in recognition of my significant contribution which has enhanced the scientific understanding of materials chemistry. I was also awarded the UK Society for Biomaterials, Biocompatibles Prize which recognises researchers with an industrial link to their research and who have made significant contributions to the UK Biomaterials field.

What inspired you to become an engineer?
I probably owe my career in engineering to my long haired Uncle Hebi, who was somewhat glamorously studying 'Werkstoffe' at Erlangen University as I was growing up back in the late 70s. He bought me my first microscope, dissection and chemistry sets while I was still at junior school, and I remember accidentally synthesising concentrated sulphuric acid in my back garden! Around the same time, I also nearly set fire to the school hall whilst showing my friends how to get a whole egg into a glass milk bottle.
This somewhat reckless experimentation, combined with my Dad's enthusiasm for Meccano and Airfix and my Mum's unparalleled skills as a seamstress (which taught me 3rd angle projection and 3D visualisation!), along with a two week secondary school work placement at Rolls Royce in Leavsden, helped me realise that engineering was a field that I wanted to get into.

How did you get to where you are now?
Unfortunately things didn't run smoothly at the beginning as I picked all the wrong options at O-level (now 'GCSE'). I had to have lunch time lessons in chemistry in order to get my chemistry O-level and also studied pure maths, applied maths, physics, technical drawing and art at A-level. I was lucky enough to have inspirational teachers.
I then studied Materials Science and Engineering at Brunel University (an obvious choice given that Brunel was one of my heros, along with Torvil and Dean, Tracy Thorn, Herbert Von Karajan and Pink Floyd!). I benefited hugely from the placements I went on during my undergraduate degree. They threw us in at the deep end and reinforced the academic theories that we had learnt. Following a gap year in Australia, I started my PhD at the IRC in Biomedical Materials.
This is where my career in Biomedical Materials Engineering began in earnest with a crash course in biology, biomechanics, critical thinking and Karaoke – a key part of conference 'networking'!

Do you have any advice for females considering a career in engineering?
I would say to always believe in yourself and to go for what you want to do or think is the right approach, even when it looks hopeless. It was probably this attitude more than any other factor, shared by the team of ApaTech's founding scientists that was responsible for us getting our initial venture capital funding after over 12 months of Dragon's Den type rejections.
Updated by: Corinne Hanlon